Yueh Hai Ching Temple/粤海清庙
This work seeks to explore the feasibility of creating a digital archive of heritage sites in the form of photospheres using a spatial database created on a panorama software — EasyPano. Through our case studies of Yueh Hai Ching Temple and Fuk Tak Chi Museum, we aim to explore the advantages and disadvantages of using panorama technology to digitally document heritage sites. Although panorama technology has its own limitations and constraints, this paper argues that digital spatial database created on panorama softwares are more suitable than traditional GIS database in documenting heritage sites in an immersive and semantically-enriched way. This can be attributed to panoramic software's capabilities of creating 3D virtual tours that immerses users into the setting and layout of the site, allowing them to visualise the heritage site as if they were there. We will also highlight several limitations encountered during the study and propose alternative design practice and choices that future research can consider. These alternative suggestions underscore the point that the design of a heritage preservation project is ultimately contingent upon its project goals and objectives. Click here to read more.
这项工作力图探索在全景软件EasyPano上创建空间数据库并以全景照片形式创建一个遗址数字档案的可行性。通过我们对粤海清庙和福德祠博物馆的案例研究,我们计划探索使用全景技术对遗址进行数字化记录的优点和缺点。虽然全景技术有其自身的限制和约束,但本文认为全景软件所创建的数字空间数据库比传统的GIS数据库更适合以沉浸式和扩充语义的方式记录遗址。这可以归功于全景软件创建3D虚拟漫游的能力。这些虚拟漫游让用户沉浸于场所的设置和布局中。这使得他们如身临其境一般将遗产地视觉化。我们还将强调在研究过程中遇到的几个限制,并提出未来研究中可以考虑的替代性设计实践和选择。这些替代性建议强调了一点:遗产保护项目的设计最终要视其项目目标和宗旨而定。点击此处浏览更多。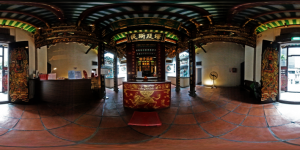 One example
Tampines Chinese Temple/淡滨尼联合宫
Check out the journal article here for the details about generating the virtual tour.